This site is dedicated to my brothers Mac and Dwight, and to drag boat racing.
Down 'n Out
(above) was one of the Blown Fuel Hydros driven by my oldest brother Dwight Bale between 1967 and 1973. Dwight and I both appreciated Led Zeppelin hard rock, particularly the lyric that goes, "
took some time 'for I found out, what people mean by down 'n out.
"
I still feel lucky to have been at the
Long Beach Nationals
in 1971 when Dwight (Everyone else called him 'Bale'. Only the press, and strangers, called him "Hey Bale." But he knew the value of media attention and put
Hey Bale
across the visor of his helmet.) BALE took top fuel honors with a quarter mile speed of 196.92 M.P.H. and an E.T. of 7.73 seconds. Believe me, a seven second quarter mile on water is VERY LOUD! VERY QUICK! and DAMNED IMPRESSIVE!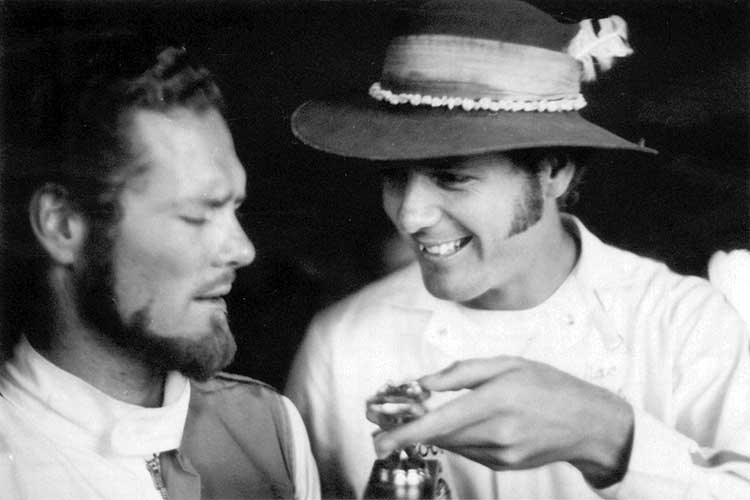 Click on Images to View Full Size
In
Conquest
(above) Bale first shattered the world's quarter mile speed record in the summer of 1967, and he virtually owned that title for the next five years, moving it up in progressive stages from 161 M.P.H., to just short of 200 M.P.H., until his death in 1973. No, not racing. He drowned when the four-man rubber raft he and old friend Jim Davis were playing around in, flipped over as they 'shot the rapids' on the rain swollen cannel system that meanders through Walnut Creek and Pleasant Hill, California. (Strangely ironic, as we had been warned to "stay away from the cannel!" throughout our childhood).
The only losing season Bale ever had was 1969-70, when our middle brother
Mac
was racing. Dwight retained the speed record, but Mac out-raced him, winning every race he entered — except the 1968 Nationals in Perris, CA, Mac's first race, in which he was runner up. But that's another piece of the story.