Click on the TEXAN Image to Return

RECORDS SET BY "THE TEXAN"
Top Fuel Hydro Drag Boat
· National Drag Boat Association (N.D.B.A.) record – 229.00 MPH (backed up by 226.89 MPH)
· Southern Drag Boot Association (S.D.B.A.) record – 220.76 MPH (retired undefeated)
· Canadian record – 223.32 MPH
· World elapsed time record – 5.16 seconds
· World Championship winner (A.D.B.A.) – 1977, 1979, 1980, 1981, 1983
· High Points winner (S.D.B.A.) – 1976, 1977. 1978, 1979, 1980, 1981, 1982
· Nationals winner (S.D.B.A.) – 1978
· Texas Shootout winner (S.D.B.A.) – 1979, 1981, 1982, 1983.
· Nationals winner (N.D.B.A.) – 1980, 1982, 1983, 1984
· Coors Summer Nationals winner – 1980, 1981, 1983
· World Series of Drag Boot Racing winner – 1983, 1984
· Season Standings: 1978 – Won 7 of 13 races

1979 – Won 6 of 18 races
1980 – Won 9 of 15 races
1981 – Won 8 of 11 races
1982 – Won 8 of 12 races
1983 – Won 10 of 16 races (5 runner—up)
1984 – Won 7 of 18 races (7 runner-up)
· Holder of 17 Individual strip records for speed and elapsed time.
· First boat in all four sanctioning associations to complete the quarter mile in under 6 seconds.
· The only drag boot to ever hold top records in all four drag boat associations concurrently.
· The only boat to ever break the E.T. record (5.16 backed up by 5.17 seconds) in the quarter mile as set by top fuel asphalt quarter-mile dragsters and funny cars.
· As of November, 1984, Eddie Hill had these liquid passes to his credit:
Over 200 MPH — 101
Over 210 MPH — 48
Over 215 MPH — 27
Over 220 MPH — 7
Over 225 MPH — 2

· Recorded in 1984 and 1985 American and British editions of the Guinness Book of World Records for highest speed and quickest E.T. ever attained by a propeller-driven boot.

· Eddie Hill survived the highest speed crash ever recorded of a propeller-driven boat at 217.91 MPH with an E.T. of 5.24 seconds.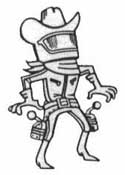 .

Click on the TEXAN Image to Return

.